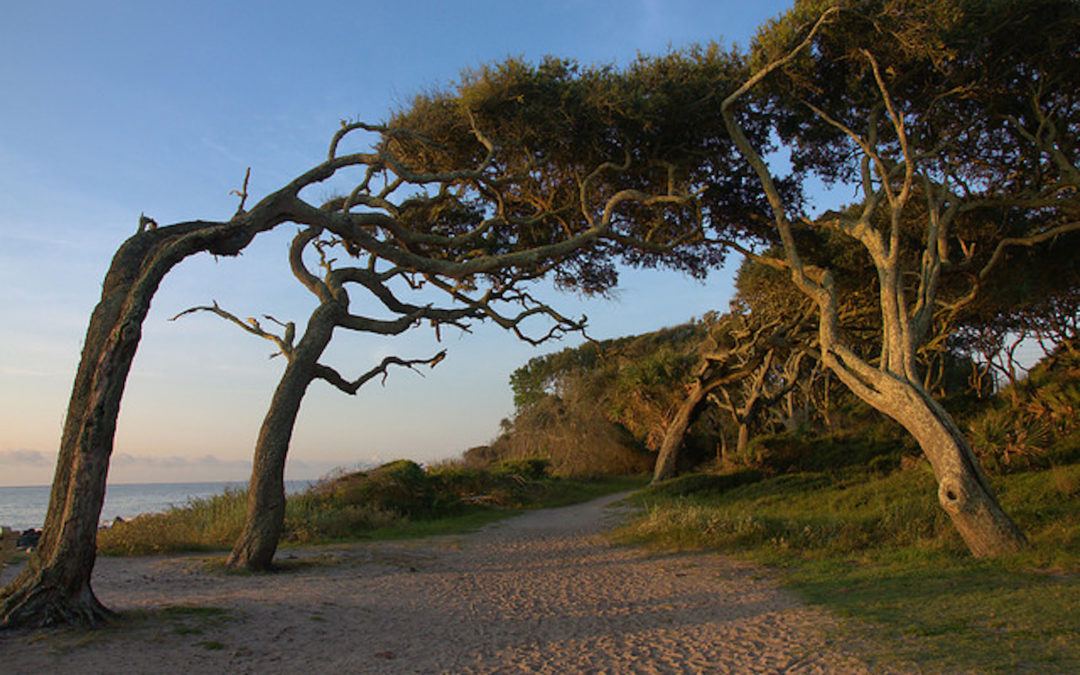 Jekyll Island, one of Georgia's Golden Isles is a perfect Peaceful Living destination! It is truly the epitome of peaceful living. If you are looking for a romantic getaway, relaxing girls weekend or even a low-key family retreat, Jekyll will meet your needs! It has beautiful beaches, hiking/biking paths, fishing, horseback riding and even a cute put-put course.  Come with me on my weekend journey to Jekyll!
Make sure to read all the way to the end for my Peaceful Living Travel Rating!
Accommodations:
My recent trip to Jekyll Island served as a romantic getaway for my husband's birthday, so we opted to stay at the historic Jekyll Island Club Resort. As soon as you drive up to the resort you feel like you've gone back in history to a time when things moved slower and you could sit back and enjoy the simple pleasures in life.
Sit on one of the many verandas in a wicker settee or a cushioned rocking chair and enjoy a glass of lemonade and the beauty of your surroundings. Or stroll along the historic grounds and take in the views of the verdant wildlife in the Intracoastal Waterway and the elegant, historic homes on the grounds.
If you are interested in a little more activity you can play 18 holes of golf on one of the three courses around the island or a game of croquet on the Club's croquet lawn. You can indulge in history with a guided tour of the grounds and the aforementioned historic houses.  Take a swim in the pool if you are there in the warm season. The pool is rather small, so if you are there during a wedding weekend, as we were, it can be crowded and noisy with drunk after-wedding partiers! You may want to opt for the beach instead.
Overall the hotel is quiet and lovely and a wonderful place to retreat and relax.
The rooms look and feel historic, they are small but they are comfortable and don't have the musty smell that some historic hotels have. However, there are several other historic buildings with larger accommodations around the property, as well as at the Jekyll Island Beach Club. If you are willing stay outside of the main building you can definitely find large, very comfortable rooms on the property and at the beach!
My husband and I opted to stay in the historic building, despite the smaller room size we were very happy we did. It is as if you are staying in an elegant old mansion. You can walk up to your room using the grand staircase with one of the most beautiful carved wood banisters I have ever seen. I spent an entire afternoon lounging on a veranda drinking tea and reading magazines while my husband indulged in a nap. It was as if I were relaxing in my own home, but I didn't have to clean it or cook for my family! Barely a soul walked by even though the resort was rather full with wedding guests.
If the Jekyll Island Club is not your cup of tea, the island has several different types of accommodations to suit every budget.
From the Days Inn and Suites for the more budget conscious to the Westin on the high end, Jekyll will suit your needs. For those who prefer the adventure of camping, an extra bonus is the beautiful Jekyll Island Campground that lies in the middle of the island, but not far from the beach. 
Jekyll Island allows Air BnB and VRBO rentals. So there are also houses and condos you can rent if you would like a little more space than a hotel room and/ or a kitchen to cook some of your own meals in.  There are also three Jekyll-specific realty companies that can help you find a house, condo or cottage rental (www.jekyllisland.com/lodging/)
Dining:
For our weekend retreat my husband and I opted for a casual dining experience. We hoped to dine at the hotel on our first night, but unfortunately the casual dining room was reserved exclusively for a wedding party and we did not want to dress for fine dining in the Grand Dining Room.
We opted to go over to the local shopping area, Beach Village, and try McGarvey's Wee Pub Beach.  While it had the casual environment we were looking for, the food was honestly just not good. I had wings and green beans. The wings were flavorless and the green beans were boiled until they were practically mush.  I would definitely come back to McGarvey's for beer and darts because of the fun atmosphere, but not the food!
Most of the restaurants on Jekyll are associated with the hotels. Don't be hesitant about dining at a different hotel than the one in which you are staying.
There are many tempting looking offerings at the local hotels. For lunch, I highly recommend going to the Jekyll Market and picking up some picnic fixings. There are tables and chairs around the parklike atmosphere of Beach Village, or if you want to brave the chance of sand in your food, the beach is right there too!
We were able to stay in the resort for our breakfasts. The Pantry at the Jekyll Island Club is a nice little take-away café that offers good coffee and fresh food. I enjoyed fresh fruit and a bagel the first morning and a ham and egg croissant the second. At the time they were training some new staff, so the service was less than efficient (they could not seem to get me my orange juice), but the convenience of the setting and the freshness of the food made up for it.
The other obstacle to on-island dining we found was that some places were not yet open because we were visiting in the off-season. This made the selection of dinner restaurants fairly slim. We are adventurous and decided that we wanted to visit St. Simon's Island – the next island over ☺ – for our second evening anyway. 
Where Jekyll is incredibly relaxing, St. Simon's is lively and bustling.
I wanted to try the Southern Living Magazine Best of The South BBQ restaurant winner, Southern Soul BBQ.  It was definitely ALL THAT! I am not a huge fan of the vinegar-based sauces from my home state of South Carolina, but Georgia has some good sweet sauces! We thoroughly enjoyed our mixed plates of ribs and brisket. This restaurant will be a do-over on every trip we take to the Golden Isles
Having Fun:
As I mentioned, my husband and I enjoy adventure, but we were also going for a relaxing vacation. Jekyll Island is a wonderful place to be able to feed both needs!
We took the top down on the convertible and drove around the island just enjoying the nice weather and the gorgeous setting. When we were ready to stop we got out at what seemed like a fairly remote spot and made our way down a tree-lined path to driftwood beach. And what a beach it is! There are not just pieces of driftwood lying on the beach. There are entire trees of driftwood scattered about the beach! It's like walking within a naturally created sculpture garden – absolutely breathtaking!  We were there in the middle of the day, but I am looking forward to a time when I can go out there in the early morning, maybe even for sunrise, and enjoy the splendor and vibrant energy that comes with the new day.
For those who prefer more organized fun, Jekyll has tons to offer! There are four golf courses and the Jekyll Island Club croquet field. You can rent bikes and spend hours biking around the island and on the beaches.  For those of you who enjoy animals, take a horse ride on the beach, visit the Georgia Sea Turtle center to learn about the rescue and rehabilitation of sea turtles or take an eco-tour hike or kayak at the 4-H Tidelands Nature Center.
And remember, Jekyll is an island, so there is boating and fishing and kayaking and canoeing, and all of the fun things that come with island life! You can even take a casino cruise off the shore of Jekyll!
Jekyll offers some man-made fun as well! For those whose golf courses of choice include fun features and colorful balls there is the Jekyll Island Miniature Golf Center. Games are only $6.50 for adults, $5.00 for kids 6-10 (plus tax for both) and 5 under play free! And for big-time family fun check out the Summer Waves Water Park!  The park has slides for all different levels of bravery, a lazy river, a splash zone and The Frantic Atlantic Wave Pool! Tickets range from $11 to $29 (for a two-day pass).
A Note About Island Admission:
The Jekyll Island Authority charges a daily parking fee to enter Jekyll Island. It is currently (2018) $6.00 per day or $28.00 per week. Each day consists of 24 hours. You cannot enter the island without the parking pass, even if you tell them that you are, "just driving around," as one angry Trip Advisor commenter noted. There are many different opinions about this fee. You need to decide if it will add enough to your budget to tip you over the edge of what you can afford. It is definitely here to stay from what I can tell.
Overall Peaceful Living Rating:
I'm giving Jekyll Island a 4 out of 5 on my Peaceful Living Travel scale. The one point deduction is due to the following:
The lack of casual dining restaurants.

The sometimes rude service at the Jekyll Island Club, both at The Pantry for breakfast and the pool-side cocktail service.

The way in which the Jekyll Island Club allows weddings to take over the only casual dining restaurant and the pool.

I'm deducting a little bit for the island admission fee. I feel that the hotels need to cover those for their guests.
4 out of 5 is not a bad rating though. Honestly, I think if we had stayed at a different hotel, or in a vacation rental, I would give it a 5 out 5. But, that is really too bad because the Jekyll Island Club is a truly beautiful hotel and should provide top-notch service and dining options of all kinds.

Your comments, recommendations and opinions about the Spa at La Costa are welcome! Please post below and add to the conversation!
For more information about Jekyll Island please visit www.jekyllisland.com
Wishing You Peaceful Travels!
Jen