Photo Credit: Terry Jaskiw
When it comes to traveling, whether for work or pleasure, finding healthy food options can be tough. The airport, train, highway rest stops, and other road warrior venues don't always provide the best options. That said, having a plan of attack can help.
Here are three tips to help you stay on track when you're on the road:

Plan ahead.

Know where you're headed and then devise a plan. This could mean packing your own food, calling ahead or scouting out exactly where you're headed and potential obstacles. For example, what eateries are available at the airport? If you're headed to a work conference, can you call the hotel to see what's on the menu? Going to a wedding or a an awards dinner, call the venue and find out what they're serving. Especially if buffet meals are going to be served, it's important to know what options you have and plan accordingly.

If you really want to get specific, plan out your days in MyFitnessPal (the free app I use to track my food, especially when traveling). Review your itinerary and plot out how you will eat. When you eliminate surprises, you will find eating healthy much easier to accomplish no matter what the situation.

Know your options.

Going back to my buffet example, be sure to take an inventory of all the food options. Typically what I'll do if I'm up against a buffet and first, slowly walk around and take in everything that's offered. There are so many times when I loaded up my plate, only to realize there was a better option at the other end. You don't want to miss anything, including how to avoid the dessert area!

It's rare to not find salad or some sort of grilled item in a buffet. Once you see all of the available food, then you can make an educated decision on what to eat based your goals. Whether it's high protein, low fat, low carb, Paleo, gluten-free, etc., be sure you are clear on everything available and then you will be able to make the best healthy selection based on your options.

Be a diva and ask for what you want.

Just because a meal or item is listed on a menu does not mean you have to order it as-is. Think about all of the people who have food allergies, gluten sensitivities or dietary restrictions. Eating healthy is just as important!
Let's use a chef's salad as an example. For me, I will ask for no cheese and to have dressing on the side. Many salads are very healthy, it's what they put on top of it that sometimes turns a healthy salad into an unhealthy meal. Think about your creamy dressings, various cheeses, anything fried and seeds/nuts. While you don't always need (or have the option) to choose salads, that is always your best best if you're trying to go healthy and watch your calories. But, be sure you know what's in that salad. Add in cheese, nuts and other calorie/fat-dense add-ons and suddenly your salad has more calories than that cheeseburger! Too much of anything — healthy or not — is never good.
Being a road warrior is no excuse for not eating healthy. Always keep a protein bar, some nuts or an apple in your purse or backpack because you never know when you'll be stuck on a delayed flight or traffic. Even if you're not traveling, there are many times I've been delayed at the dentist or doctor's office and had to scarf down a protein bar in the waiting room. You never know when you may be delayed and unable to get to some healthy food options.
You can also refer to this handy guide of healthy food options when you're on the go. While it may seem difficult to find a healthy option at most fast food chains, you'd be surprised by how making some small tweaks can make all the difference. For example, instead of getting the Big Mac and large fries at McDonald's, why not opt for the plain cheeseburger and small fries. By making that switch, you save a significant amount of calories, fat and carbs! Or if you're stuck at the local gas station mini mart, don't immediately reach for a hot dog. Instead, grab a bag of beef jerky or a protein bar. Not only will your stomach thank you, but so will your waistline!
Now you have no excuses for not being a healthy road warrior! Want to learn more tips? Visit www.allisonjacksonfitness.com.
---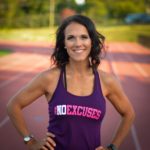 Allison Jackson is the founder of Allison Jackson Fitness. She is passionate about all things health and fitness, but she really loves sharing her knowledge and expertise to help corporate moms get lean eating foods they love so they can be at their best. She knows exactly how hard it is to work full-time, take care of the kids and household…plus try to fit in working out, eating right and taking care of herself, too! Allison has spent the last seven years training and competing in figure competitions — even winning her pro card — so she has a crystal clear picture of what it takes to get to your ideal weight and stay there. Now she's ready to share what she's learned and experienced. Are you ready to transform your body and reach your goals?
You can also find Allison on Facebook – Instagram – Website