Thank you to the sponsor of this blog post: The Hotel Bella Grace, Charleston!
Did you know that beautiful Charleston, South Carolina is the most popular city in the United States for destination weddings? If you have ever visited this charming Southern city, you know why! If you have not yet visited, keep reading to learn about why Charleston is a city of romance!
From its antebellum mansions to its oh-so-romantic carriage rides for two, this small city on the sea is an ideal place for a couple to get-away from it all. With Valentine's Day just around the corner, it's time to book your stay!
This is the second installment of my "local" Peaceful Living Travel Blog series. For my Charlestonian tribe – this is a MUST DO romantic staycation! For everyone else – as I mentioned above, Charleston is a popular destination for romance because it is so very lovely. It is definitely WORTH THE TRIP!
FIND PEACEFUL ROMANCE AT THE HOTEL BELLA GRACE
The Hotel Bella Grace combines luxury, history and comfort in a boutique hotel experience! When Bella Grace owner Don Semmler first laid eyes on the circa 1830 Delaney House in Charleston's Ansonborough neighborhood it was dilapidated and nearly falling down. But, Semmler saw its potential. For one thing, he loved the location. Situated on Calhoun Street close to the heart of downtown Charleston it is an ideal location for visitors who want to experience the historic charm of the city.
But, there was more to his vision than accessability to restaurants, history and shopping. He was also inspired by the fact that the Delaney House (and its adjancent parking lot that would later become the Hotel Bella Grace itself) sits directly across from Mother Emanuel AME church. In fact, he and his architect designed the three story plate-glass windows that adorn the facade of the hotel to reflect the beautiful, white spire of the church!
My husband and I had the pleasure of visiting the Bella Grace for a romantic, birthday getaway. Because this is a boutique hotel we felt as though we were staying in a very comfortable home. Everything about the hotel is comfortable, from the beds, to the setee in the room, to the cushy sofas by the fireplace in the lobby "living room." It's like being embraced in a big, luxurious hug 🙂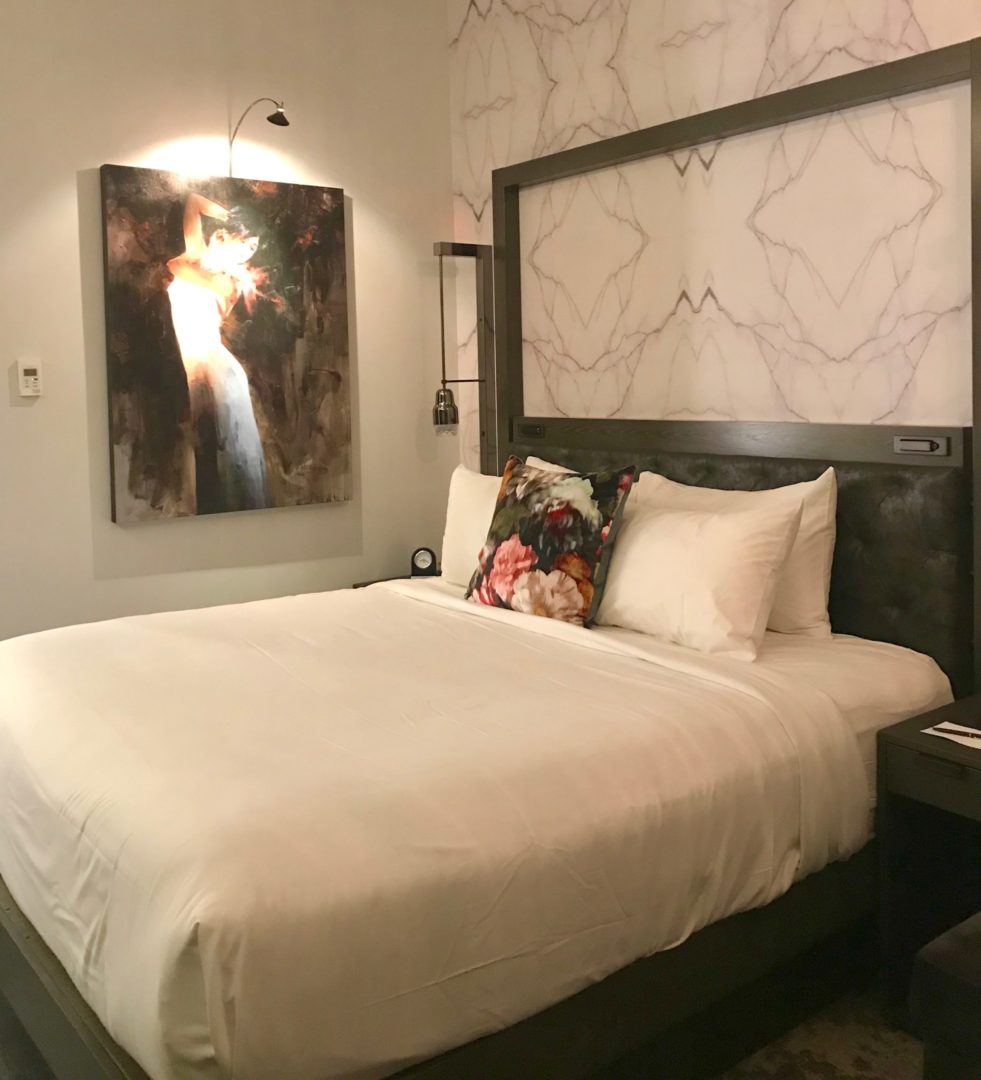 One of the very special amenities of the hotel is that the concierge will go shopping for any food you may want to stock in your room. The Bella Grace is an all suite hotel. Thus, all of the rooms have kitchenettes. Our studio suite even had a full-size refrigerator! We had champagne and dessert at the ready for a birthday toast!
Peaceful Living Tip: This is also a very good way to save some cash! Eating in downtown Charleston can be expensive.
Like its sister property, The Andell Inn, Kiawah, The Hotel Bella Grace is adorned with beautiful and unique art. Walking through the halls of the Bella Grace is like walking through a very, special art gallery! When you visit make sure to visit all of the floors of the hotel – not just your own!
If you are thinking about visiting Kiawah Island, check out my blog!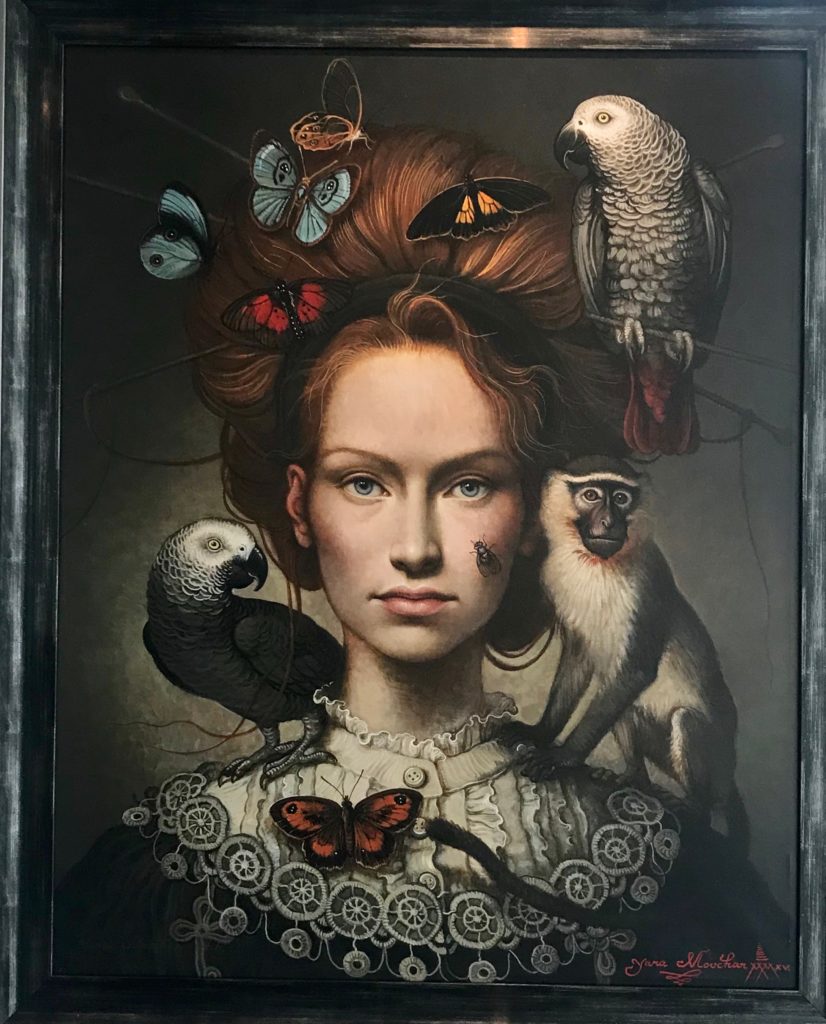 And locals – you can go to the Bella Grace just to see the art! That said, I really think you should treat yourself and your honey to a romantic, local getaway.
The motto of the Bella Grace is, "Where Historic Meets Modern." The hotel itself is modern. It is a brand new building and actually part of the Marriott brand. The Delaney house is the historic portion of the hotel and serves as the "living" area of the hotel. Between its charming verandas with comfortable chairs and tables to its meeting rooms, which are actually parlors with equally comfortable chairs and sofas, guests can relax and partake in the Southern tradition of "sitting a spell!" – Talk about Peaceful Living Travel!
We like to slow down and enjoy life here in the South and you can definitely do that with a glass of sweet tea or wine on the Delaney House veranda!
The Delaney house is also the breakfast room for the Bella Grace. From scrumptious eggs and bacon to fresh fruit and healthy yogurt there is something to suit all tastes. And I love that the chef is right there cooking up your breakfast in plain site! Don't forget your mimosa – you are on vacation after all.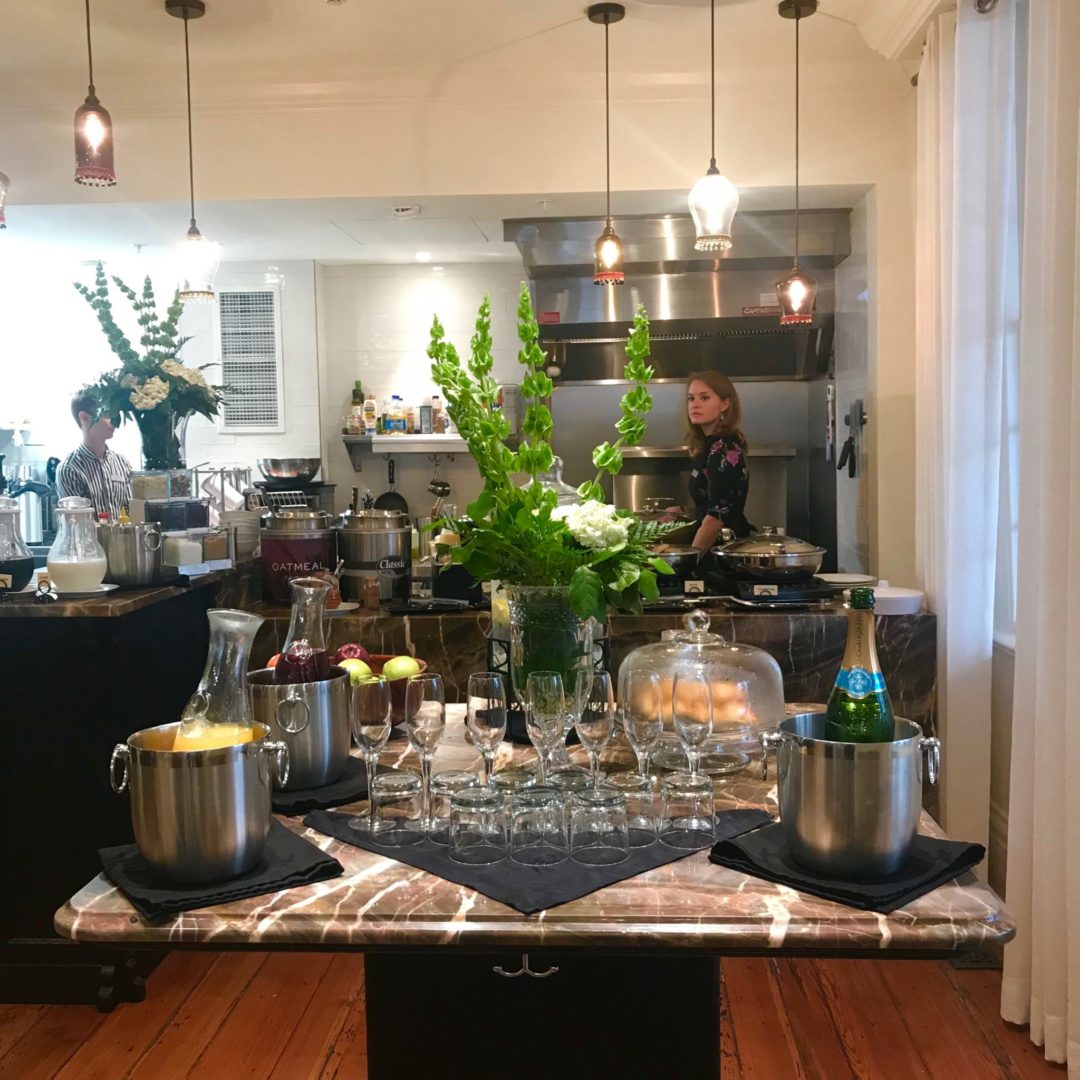 BONUS: Because the Bella Grace is a Residence Inn by Marriott your breakfast is included!
ROOM FOR IMPROVEMENT
As my regular readers know, I always put in a section called "Room For Improvement" to give the places I review a few points of constructive advice.
Honestly y'all, I've got very, little here… The Bella Grace is just fantastic. They have covered all of the details. The only thing I can say is that a covering to get from the hotel proper to the Delaney House would be adviseable. It rains quite often in Charleston. And a covering over the drive that separates the two buildings would make the short walk a bit more comfortable.
WALKING HISTORIC CHARLESTON
It may be tempting to just hunker down and not leave the hotel if you are staying at the Bella Grace. Even though you are on a romantic getaway, I do recommend getting out and enjoying Charleston!
As I mentioned earlier, the Bella Grace is situated in an ideal location in downtown Charleston. Because the Ansonborough neighborhood is somewhat outside of the center of town it's fairly quiet. It's also a lovely neighborhood that you can stroll through to make your way to the Charleston City Market, Waterfront Park and the restaurants and historical sights on East Bay Street.
Charleston's historic homes are known for their gardens and flower boxes. Owners take great pride in tending their lush gardens and making sure that their window, flower boxes are stocked with seasonal plants and flowers. One of my favorite Peaceful Living things to do is stroll around downtown neighborhoods and enjoy the elegant architecture and flora.
Make sure to make your way down East Bay Street to admire Charleston's famous Rainbow Row houses. Their colorful facades add an extra sense of cheer to an already happy city!
THE CHARLESTON BATTERY
When Charlestonians first told us to make sure to visit "The Battery," I thought, "oh another Civil War monument…" And yes, The Battery is an important place in Civil War history, but it is actually Charleston's gem of an antebellum neighborhood. Residents watched from their balconies as the first shots of the Civil War were fired over Charleston Harbor. Today, you can walk the sea wall and watch the sailboats glide through the water and admire the beautifully restored mansions that surround White Point Gardens, the park situated on The Battery point. Bring a picnic (the concierge from the Bella Grace can get that purchased and packed-up for you) and enjoy it under the graceful boughs of the centuries-old oak trees in the park. You can relax for hours enjoying the view and the environment.
THE OLD CITY MARKET
Don't be dissuaded from visiting the Old City Market because of its historical name, "The Slave Market." It is not where slaves were bought and sold. Historically, the market was the place in the heart of the city where the enslaved people on the plantations brought the meat and produce from the plantations to be sold in the heart of the city. Today, it is a fun and bustling outdoor market with vendor stalls that sell everything from original photo art to the intricately woven sweet grass baskets made famous by the basket artist decendants of enslaved people.
BONUS: The Old City Market is only 6 city blocks down Anson Street from the Bella Grace
WATERFRONT PARK
Waterfront park off of Vendue Street is absolutely one of my favorite places in Charleston! Where else can you swing on porch swings while enjoying the view of a beautiful harbor. It's a wonderful place for bird, people and doggy watching! My husband and I love to take a romantic stroll through the park, past the iconic pineapple fountain and then sit and swing while we watch the pinks and oranges of the sunset reflect off of the water.
And if it's hot out – go ahead and splash around with the kids in the water-spout play area!
UPPER KING STREET & MARION SQUARE
PEACEFUL LIVING TIP: Visit STILL, Charleston for a meditation class or drop-in chill out time! 
Upper King Street is one of the most vibrant areas of downtown Charleston – Especially for night life!
Amid the boisterous restaurants and bars nestles a Peaceful Living gem! STILL Soul Studio, Charleston! STILL started out as Charleston's first meditation studio. It has grown into a hub for all things "Mindful!" Catch a meditation class or a workshop on mindfulness. If you're lucky, there may be a hot-stones restorative yoga workshop the weekend you visit. Or, you can just drop-in and chill out in relaxation room. Whatever you do, visiting STILL is a Peaceful Living "DO!"
Locals – you are so lucky that you can drop by STILL anytime you are downtown to get in some relaxation time. And don't forget to check out their "events" schedule for the current listing of the amazing workshops hosted at STILL!
On your way to or from upper King Street stop by Marion Square Park on Calhoun between Meeting Street and King Street. This is another park that you can just kick back in and relax. Pick up a salad at Verde or a pizza from one of the many pizza restaurants and take it over to the park for lunch.
BONUS: If your romantic getaway lands between April 14th and November 24th you can catch the Saturday morning Charleston Farmers Market in Marion Square!
If shopping is your thing, just stroll up and down King street to experience the wide-variety of shops! There's everything from chain clothing stores to locally owned boutiques, candle shops and even a gourmet honey shop from Savannah!
Don't forget to stray down the side streets too! The side streets have more shops and art galleries galore. If you have a sweet tooth, make sure to stop into Cafe Frambois on Market Street for one of their amazing macarons.
FOOD IN CHARLESTON IS GOOD
There are soooo many cafes, restaurants, and eateries of all kinds in Charleston it is hard to know where to start. I've already mentioned a couple of easy, low-cost options on King Street. But, keeping blog-length in mind, I'm only going to cover one of my favorite upscale restaurants in Charleston: FIG – Food Is Good
If you have read any of my other travel blogs you know that I like to give my readers helpful tips on how to save money while traveling. But, you also know that I will talk about certain things I believe are worth splurging on. And FIG is one of those worthwhile splurges! It has a cozy, romantic atmosphere and simply amazing farm-to-table food.
One of my favorite things to do on a date with my hubby (or sometimes with mom – LOL) is to sit at the community table at FIG and order several appetizers. You get a sampling of some of the most delicious food in Charleston! And don't miss out on the craft cocktails. Bartender Andrew will mix you up something original!
AND FINALLY, A ROMANTIC CARRIAGE RIDE FOR TWO
A romantic trip to Charleston is not complete without a carriage ride for two. You can tour beautiful downtown during the day or evening in a charming private carriage. The Charleston carriage drivers are all educated in the history of Charleston. They even have to pass a test based on their study of a gigantic book of Charleston history! Many of them have also taken the local history classes offered at The College of Charleston.
Your tour driver will entertain you with the fascinating history of this 350-year-old city OR you can ask for a quiet ride and enjoy each other's company without the guided tour. I have partaken of carriage rides with several of the downtown companies. So far, they are all pretty good. But, my family's favorite is Old South Carriage Company. We find their tour guides to be the most entertaining and informative.
Plus, as a former horse person, I like the fact that their horses are retired draft horses from the Amish farms in Ohio. These big horses seem really happy to still be working, but in a much easier job! They are also well taken care of and enjoy weeks-long rest periods at a beautiful farm on nearby John's Island.
STAY TUNED
This is just a sampling of the many things to see and do in Charleston. Stay tuned for future blogs with many more tips of how to enjoy Charleston, Peaceful Living Style!
As always I welcome your comments and questions! Leave them below!
And don't forget when I'm visiting my Peaceful Living Travel destinations I post tons of pictures and do live videos on both Facebook and Instagram!
If you're not already following me, here are the links!
Facebook @peacefullivingwellness
Instagram @peacelifecoach
YouTube @peacefullivingwellness
 Pinterest @peacelifecoach
Here's to Peaceful Travels!
Jen