Every couple needs to take time to reconnect and deepen their intimacy.  And what better way is there than to go on a beach minibreak?  South Beach is a great place to do just that! Whether you're looking for a vibrant nightlife, fantastic shopping, delicious food, gorgeous beaches or all-of-the-above SoBe has it!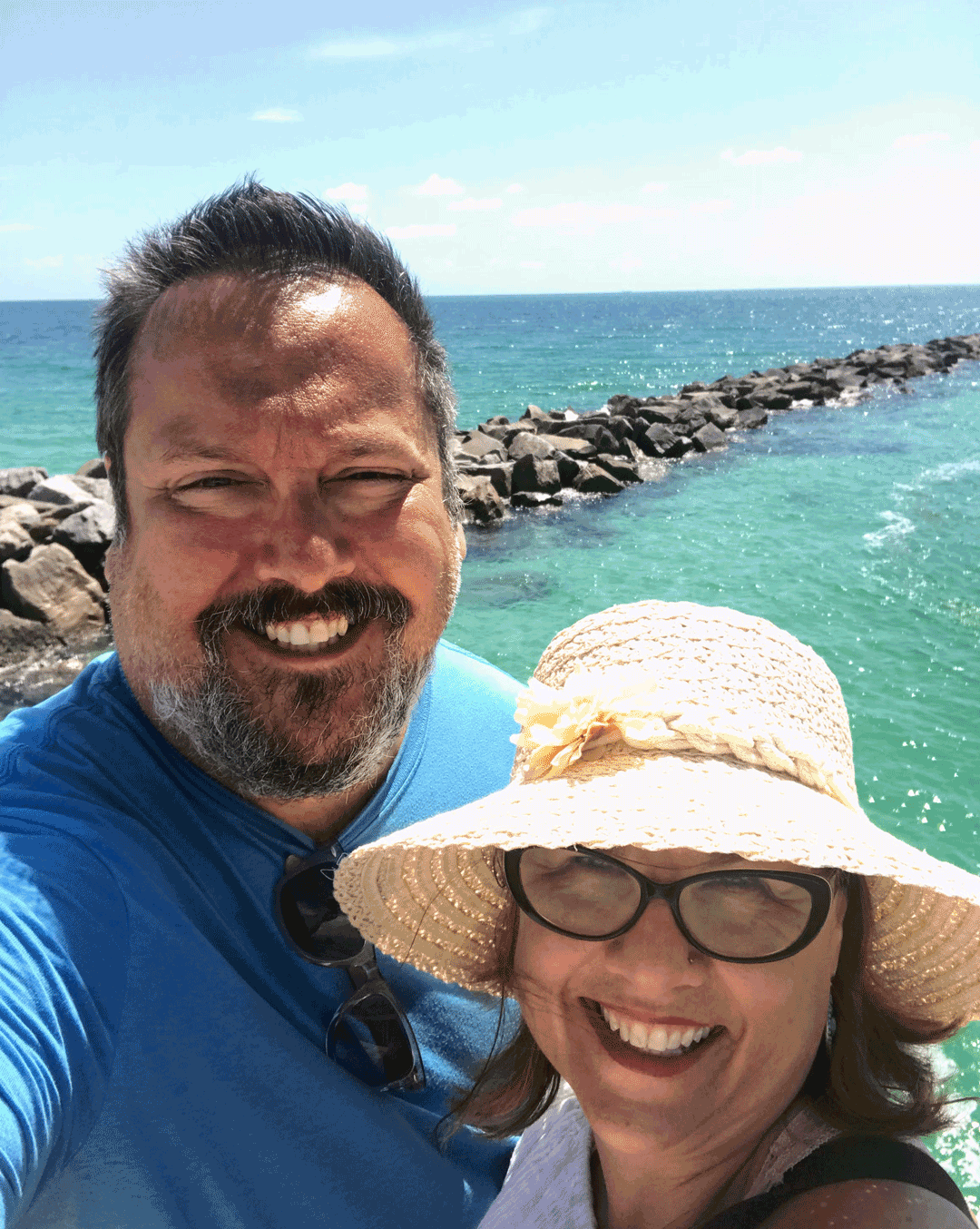 Miami Beach in general has a reputation for being a playground for the rich and famous, a place to see and be seen.  And it definitely is that! But, it's also a bastion of diversity and a laid-back beach town.  Yes there are beautiful, scantily clad bodies. But, there are also a lot of other bodies. So don't worry, even if you want to wear a modest swim suit or clothing you will be okay.
Honestly, when my husband first "surprised" me with air tickets to Miami for an August trip, I was less than thrilled. "South Florida in August?" I thought, "there will be even more heat and humidity than we have here in Charleston!" Ugh!
I am the first to admit when I am wrong. And I was VERY WRONG! It was beautiful. Both the water and air temps were in the 80s and a cool breeze kept our sunbathing relaxing and pleasant.
RELAX, RELAX, RELAX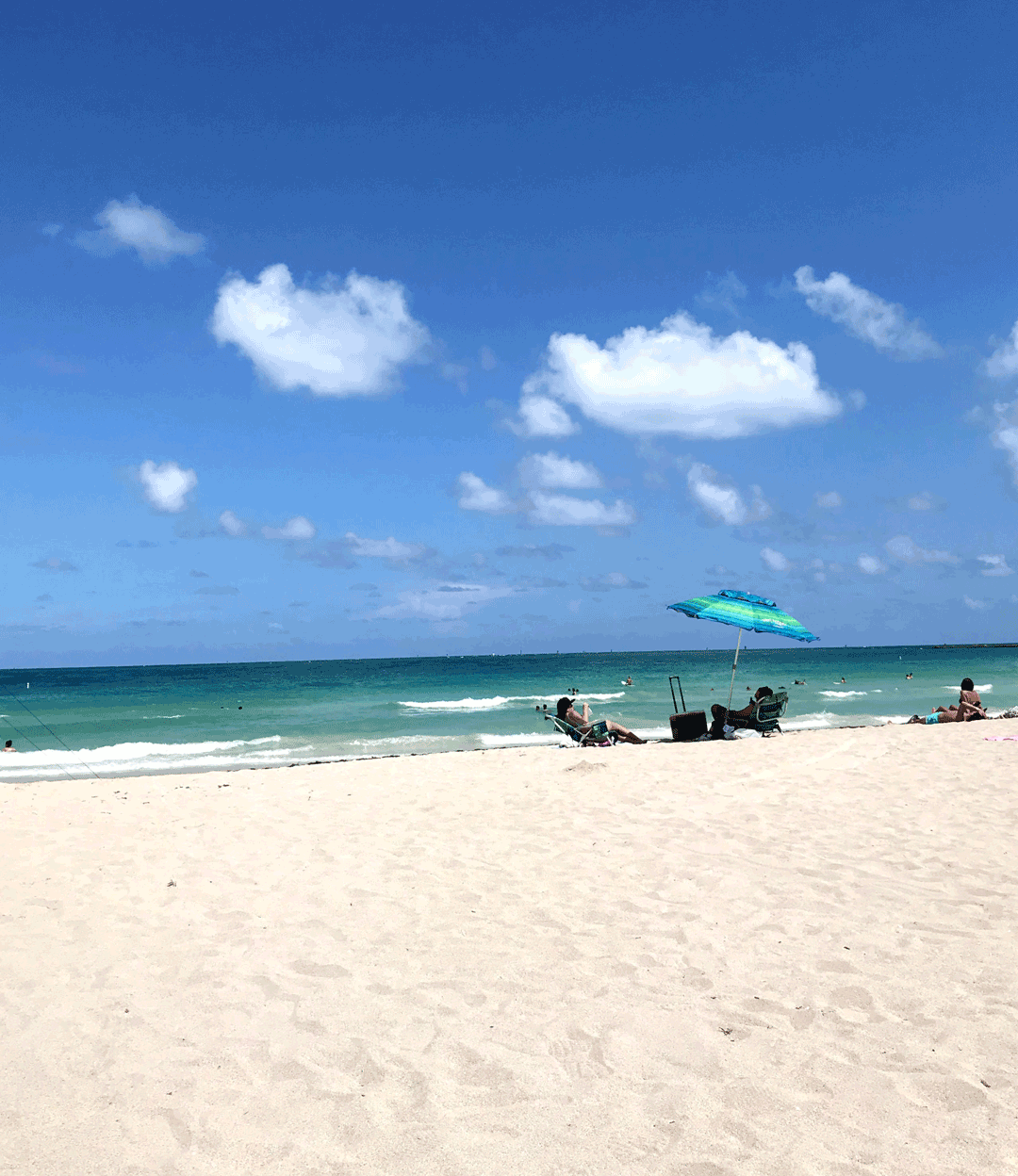 Our mission for this trip was to accomplish two goals:
Relax!
Reconnect with each other.
That means that we did not plan a lot of activities and we did not partake of the nightlife or the many, many activities Miami has to offer. Our travel agenda consisted of sleeping in, going to the beach, eating good food and taking relaxing walks. Oh, and naps, lots of naps – LOL.  Thus, this blog is not going to be my usual overview of peaceful things to do.
Instead I'm going to give you tips and tricks to help make your visit to South Beach more peaceful and relaxing!  (Oh & how to save money and when to splurge!)
THE BEACH
The beach in South Beach is absolutely gorgeous! White sands and warm, clear, turquoise water set the stage for deep relaxation.  Here are my Peaceful Living beach tips:
Avoid the party crowds: The party crowds hang out more on the beaches in front of Lummus Park. You will encounter loud music, lots of pot smoking (medical marijuana is legal in Florida and it is abundant) and a lot of really, loud people. For a more peaceful environment go south a little bit towards Biscayne Bay and South Point Pier. This is especially true on the weekends! On the weekends you will still find partiers on the more southern beaches, but not as many.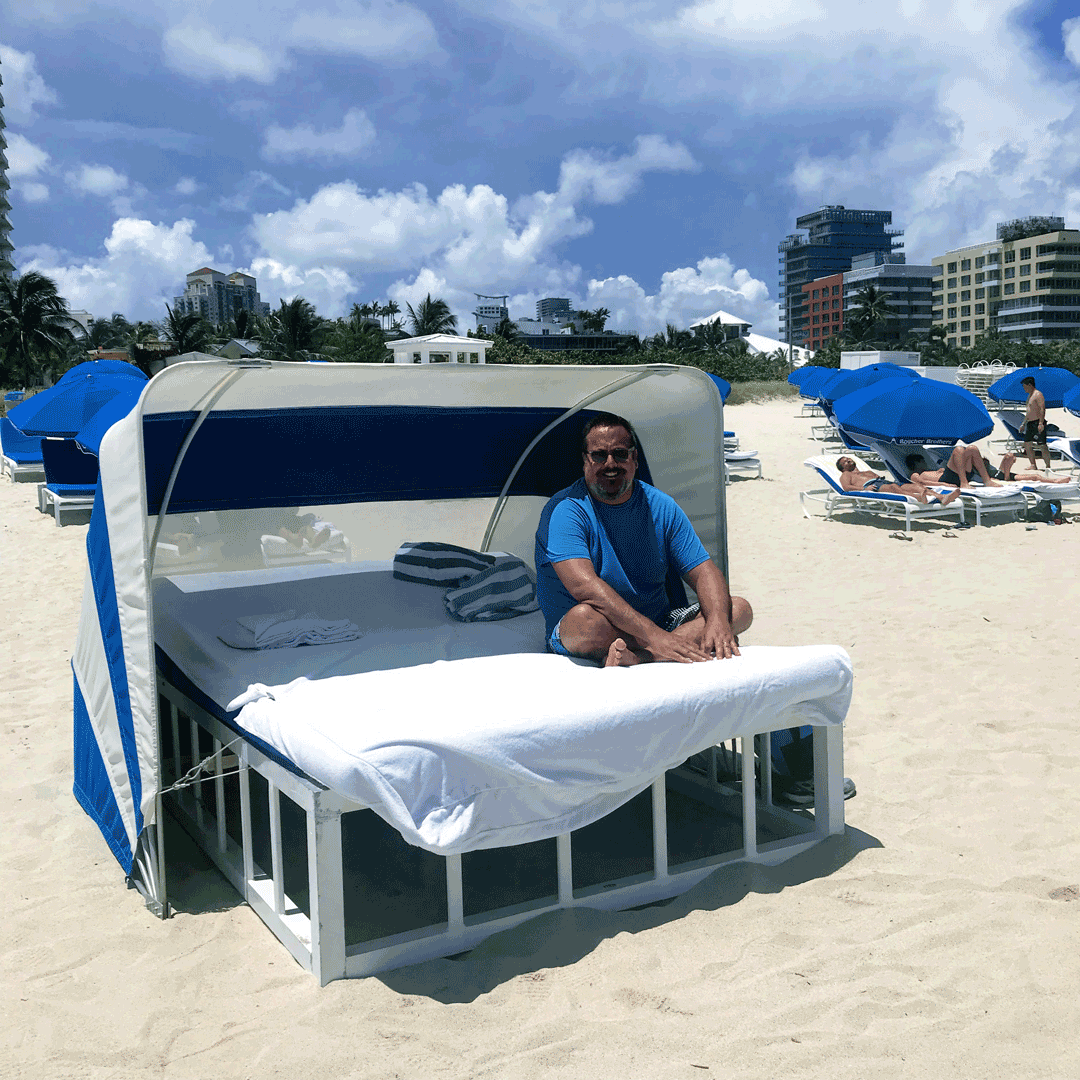 Splurge on beach lounge and umbrella rental! You may say to yourself, "$20.00 for a beach chair??? Are you kidding me???" But, believe me it's worth it. The Boucher Brothers have a monopoly on the rentals in Miami, so the prices are high. The service is good though and the chairs and umbrellas are made of quality materials. You will most definitely be more comfortable than just laying on your hotel towel on the sand. And believe me, the Miami sun is hot, hot, hot. So, you will want the protection of the umbrella.

A less expensive option: Buy a couple of cheap chairs and an umbrella at one of the many drug stores near the beach. You can use them while you are in town for less than the cost of a Boucher Brothers rental. Then, you can pay-it-forward and donate them to your hotel to loan out to future visitors. Of course, your least expensive option is if your hotel or rental condo has chairs and umbrellas that you can borrow!
Have your own small cooler: There are kiosks along the beach where you can buy water and non-alcoholic beverages, but I like to have my water and snacks right next to my chair. I will often use my small, soft-sided, cooler as my "personal item" on my flight. It will then double as my beach cooler. We can fill it with low cost items from the drug or grocery store and bring them to the beach with us. Plus, they will stay cool.
Watch the flags: Florida beaches are really good about letting you know what's going on with the water each day. Look for the colored flags flown on the lifeguard towers. Here is a guide to the color coding:

Red: Dangerous water. Stay out. Red usually indicates high swells or strong rip currents. My experience in Florida is that red is posted during and right after severe storms/ hurricanes. You definitely DO NOT want to risk your life by swimming when the red flags are out.
Yellow: Swim with caution. If the yellow flag is flying you definitely still need to be cautious of the currents, but you can still swim and play in the water. If you are worried at all, or have children with you, swim right in front of a lifeguard tower.
Purple: Dangerous marine life. Dangerous marine life usually means jelly fish. But, in Florida it can also mean tiger or bull sharks or an abundance of stingrays. Ask the lifeguard, or check the lifeguard's white board, to find out exactly what type of marine life they are seeing that day. A few jelly fish are really nothing to worry about. Bull or tiger sharks are.  Sting rays you can avoid by shuffling your feet while you walk in the water or just swimming above them.
Green: Green means that you are good-to-go! You can swim and play in the calm ocean without much worry! Of course, you always want to be cautious when in the water. But, you don't need to worry about big waves, strong currents or sharks taking a bite out of you!
A note on sharks: You may see sharks swimming around in the shallow waters in South Beach. If the purple flags are not out those sharks are most likely lemon sharks or nurse sharks. They are very docile and not known for biting humans. So please do not freak out if you see a shark! The lifeguards and beach patrols are on the lookout for the dangerous sharks and will let you know if they are around.
Overall, the beaches of South Beach are a wonderful place to find deep relaxation! We lolled around for hours on our lounge chairs and in the clear waters of the ocean. While on the beach take the time to gaze at the puffy, white clouds and day dream. While in the ocean, float on your back some of the time and spend some time gazing into the clear water – you will find lots of fishy friends playing right alongside you!
GOOD SLEEPS – OR NOT!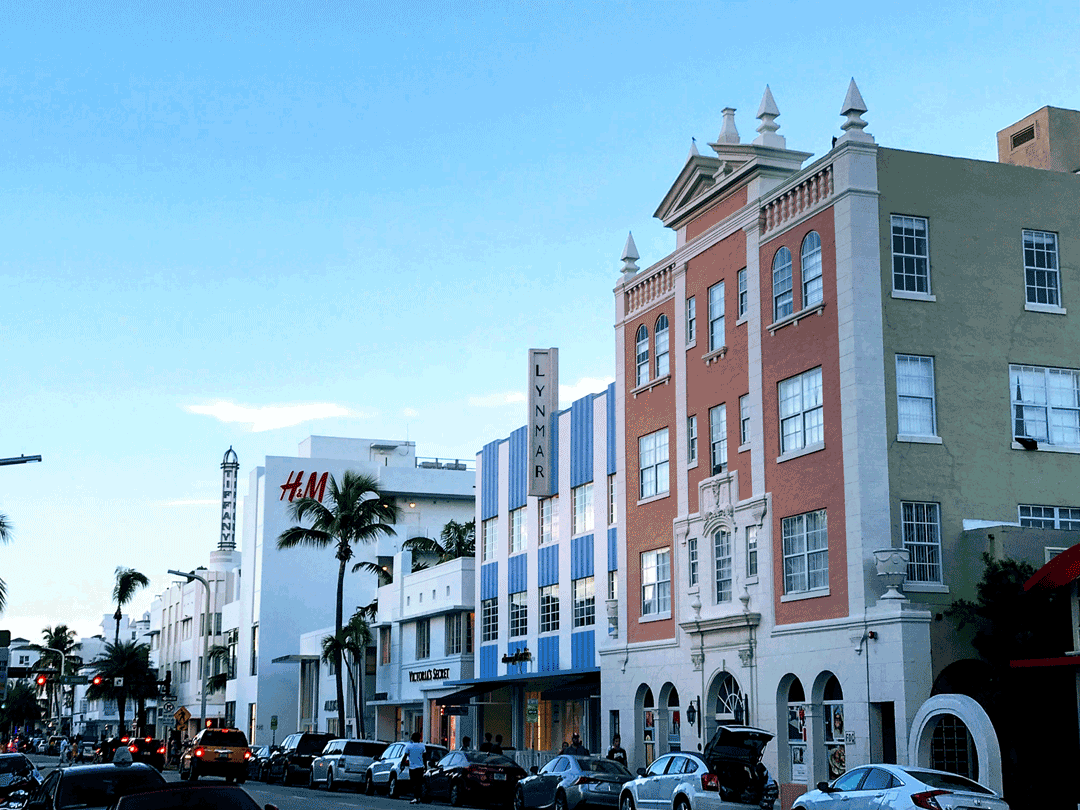 On this trip my husband wanted to stay in the heart of South Beach – right on Ocean Avenue. He said that he wanted the full "Scarface experience" – RME (Rolling My Eyes) & SMH (Shaking My Head)…  For a peaceful night's rest, I don't recommend this!  Here are my Peaceful Living Tips for where to stay:
Go South – If you stay south of 5th Avenue you will be in a quieter neighborhood. You can also stay right on the beach! You will pay a little more to do this, but a quiet night's sleep (or mid-afternoon nap!) is worth it.

My budget tip for this area is to stay a block or two off of the beach. Most hotels have a pool, many of which are on rooftops. From the rooftops you can still have a nice view – maybe of city lights rather than the ocean – and get outside to enjoy the Florida sun.  And if you stay a block or two off the beachfront you will find much lower prices!
If you are with somebody who insists on staying in the party zone (even if it's for a weird reason like wanting a Scarface experience) opt for a room further back in the building. Most of the hotels along Ocean Avenue do not have balconies anyway, so you won't be forfeiting a lovely view from your balcony. You will, however, be forfeiting a view from your windows. It's definitely a trade-off, view vs. club music thumping all day and all night…
Don't expect 5 Star service and a Starbucks in the lobby. While there are some bigger name hotels in the area, what you will mostly find are smaller, historic, boutique hotels. These will not have room service or a gourmet coffee shop. If you are in the party zone they will all have overpriced sidewalk restaurants with the aforementioned thumping, club music.
Opt for an apartment hotel. In the past I stayed in an historic art-deco hotel in South Beach. This time we opted for an apartment hotel. I highly recommend the apartment hotel. You will have a nice, little kitchenette in which you can make breakfast or even lunch and dinner. The historic, art deco hotels are quaint, but they're old. Even if they are restored they have a musty smell and tiny bathrooms. I personally feel that comfort is more important than quaintness when it comes to peaceful travels.

That said, do your homework! Read reviews of the hotels. Our apartment hotel this time, The Fritz Hotel, was in need of some tender, loving care. In other words, it was falling apart. The bed was super uncomfortable, the kitchen was missing most of its dishes and there were cupboard doors falling off their hinges. I left the reading of the reviews to my husband… 'nuff said!
GOOD EATS!!
The food in South Beach can be better than in other tourist destinations. Notice, I said "can be." Like any place, it is hit or miss.  I have some precautionary tales here, as well recommendations.
Expect to be duped on Ocean Avenue: I of course cannot speak for every single restaurant on Ocean Avenue, but in general do not fall for the hawkers out front trying to get you to come in for "two for one" drinks.  According to the locals and many, many reviews, those drinks cost upwards of $40 per drink!  Plus, the food is mostly just so-so. Of course there are exceptions to this. In particular Gloria Estefan's restaurant Lario's gets fairly good reviews.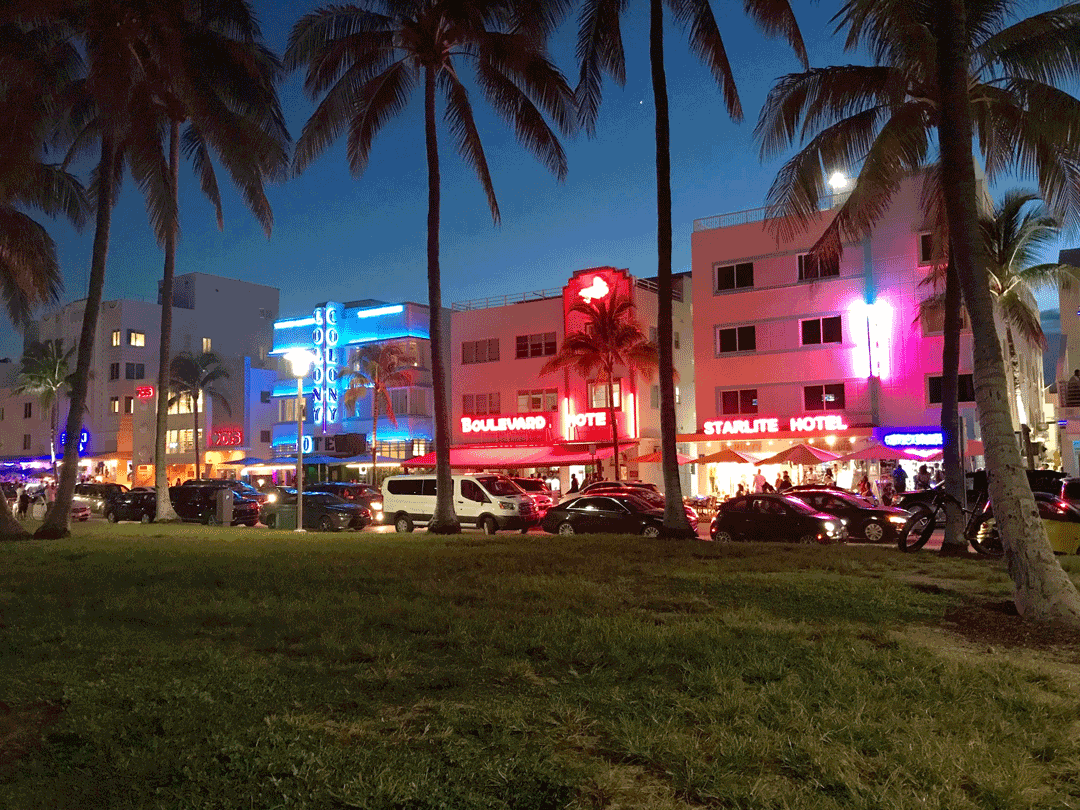 Try The News Café: Another exception on Ocean Avenue is The News Café. Yes, it's overpriced, but the breakfast food is good and the cappuccino is excellent! Plus, if you are any kind of fashionista you can go there to pay tribute to the late, great, Gianni Versace. He spent most of his mornings enjoying the paper and coffee at the café.
Gratuities are included: From what I can tell, without exception, the restaurants on Ocean Avenue include an 18% gratuity on your check. As a person who normally tips at least 20% I don't mind this. But, there are plenty of complaints in the restaurant reviews about this practice. The predominant reason given for the included gratuity is that many of the visitors to SoBe are European and Europeans are not used to tipping. I don't buy that for two reasons. First, Europeans are seasoned travelers and most of them know that tipping is expected in the U.S. Second, once you step off of Ocean Avenue, the included gratuity practice is non-existent. I don't know why they do it, but they do. So don't include an additional gratuity unless it is really deserved.
Eat beyond Ocean Avenue! There are fantastic, affordable restaurants all over South Beach. And the variety of food will please almost any taste! Here are my top two recommendations:

Puerto Sagua Cuban Restaurant: 700 Collins Ave. Miami Beach. Oh my goodness! The empenadas are flaky and flavorful and the ropa vieja and arroz con pollo are amazing! The pricing at this SoBe standard is very affordable and the service is prompt, kind and courteous. We loved this place so much we went there twice!
Meze Turkish Restaurant: 413 Washington Ave. Miami Beach. At first I was disappointed because they were out of Gyro, and I was super hungry so I was grumpy about it. Our host/ chef recommended the Kofte instead. I was delighted! It was so good. He went out of his way to make sure that we liked everything and that we were satisfied with our meal. When his server arrived for her shift, she was very sweet, but didn't really do her job. We kept having to flag her down because she was on her phone. I think they will get that under control though.
ACTIVITIES & A ROAD TRIP!
There are truly so many things to do in Miami you could spend months exploring and just having fun! For a full listing of activities, museums, parks, recreational activities and events check out the www.miamiandbeaches.com.  Here is a list of some of fun things you can do with kids in Miami Beach:
The one activity besides lolling around on the beach we decided to participate in was a day trip to The Keys!  Stay tuned for my mini blog about our road trip coming out next week!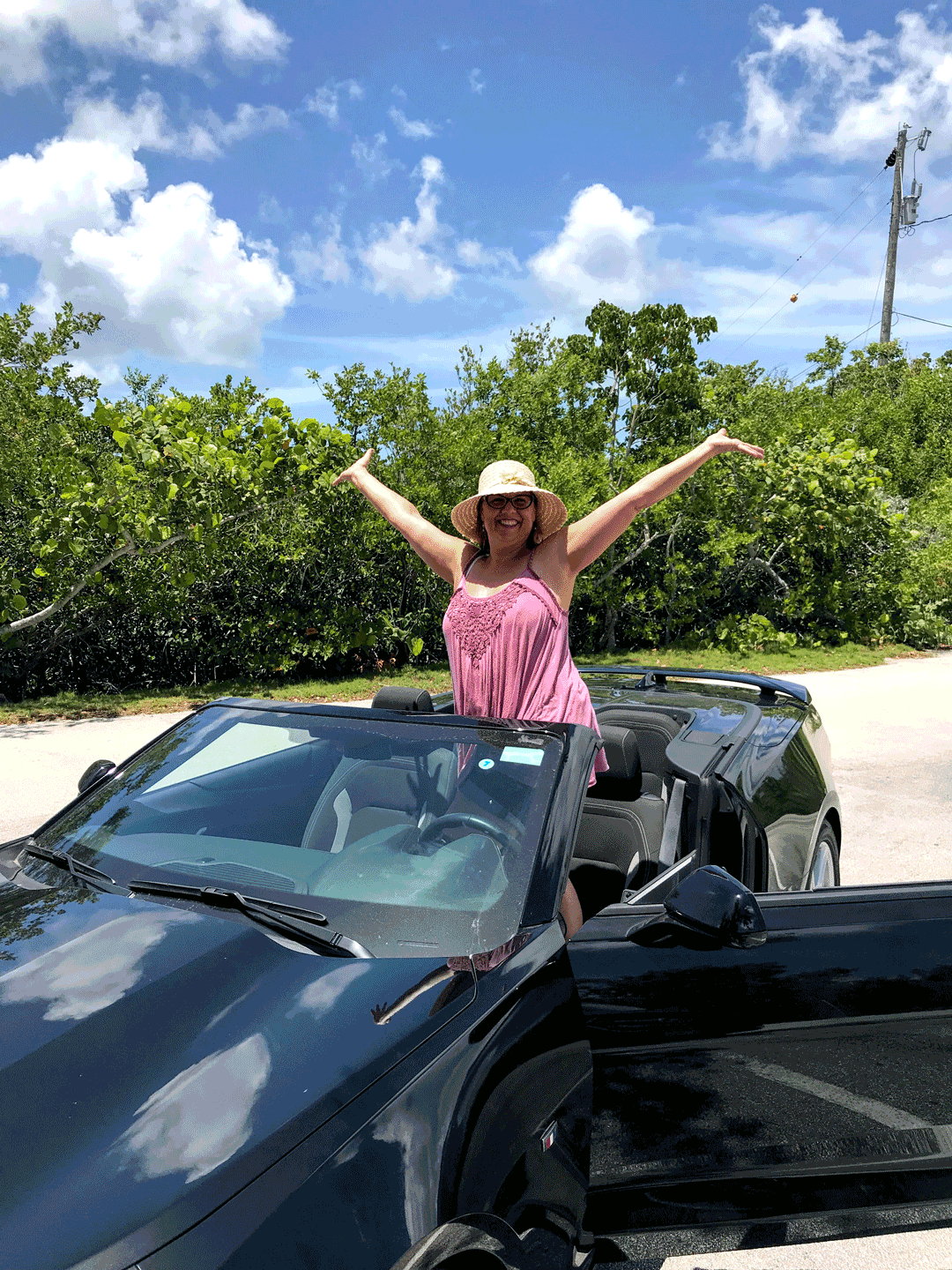 I hope that you enjoyed this blog and that you found it helpful!
Please leave your comments and let me know what you think!  And if you have Miami Beach Tips to add, that would be great!
And we LOVE your shares & Likes!
Happy Travels!
Jen