EMPLOYEE WELLNESS TRAINING: Charleston, North Charleston, Goose Creek, Summerville, Mt. Pleasant
Peaceful Living Wellness offers stress-relief coaching to employees in small group and individual settings in the greater Charleston area. Bringing stress-relief training to employees raises their level of job satisfaction and their productivity, as well as reduces absenteeism and overall health risk. What does this equate to for the employer? A more robust bottom line!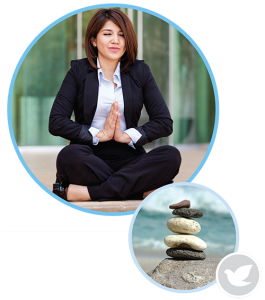 MEDITATION/ BRAIN BREAKS ~ Charleston area Employee Wellness Program Attendees learn the benefits of brain breaks, how to break them into small increments throughout their work day, and up to five different types of meditation that can be practiced in the workplace. This allows the individual to find one or more practices that work best for him or her.
OFFICE YOGA ~ Attendees learn yoga stretches and poses that can be done easily in a chair or by a desk. Mats and yoga clothes are not necessary. These movements alleviate pain and tension in the neck, back, legs, arms, wrists, feet and hands. They also aid in preventing repetitive motion disorders such as carpal tunnel syndrome. The movements can be tailored to meet individual needs.
WAYS OF THINKING ~ How a person perceives the world around them, whether in a negative or positive light, affects their stress levels and ability to function at full capacity during the day. During the "Ways of Thinking" training employees learn techniques to alleviate stress by changing the way they perceive and process what goes on around them. These techniques help employees to view their workplace in a more positive light and thus become happier, healthier and more productive, employees.
EXERCISE AND EATING FOR STRESS REDUCTION & ENERGY ~ Attendees learn not only what foods to eat for energy, but how to combine foods in a way to keep their energy up throughout the day.  In addition to nutrition exercise for stress relief and the power of relaxation through meditation are also covered.
MINDFUL COMMUNICATION ~ During the first hour Charleston area Employee Wellness Program Attendees learn their personality type and how to assess others in order to communicate effectively. During the second hour attendees practice mindful communication listening techniques, styles of inquiry and how to deliver motivational and inspiring directions. This topic is especially recommended for management-level employees.
---
Call Now for your FREE
Employee Wellness Needs Assessment:
760-637-1154
Recommended Employee Wellness Packages
HALF DAY MINDFULNESS PACKAGE: One hour group training in short-break meditation; two hours group training in mindful communication.
HALF DAY STRESS MANAGEMENT PACKAGE: One hour group training in short-break meditation; one hour group training in chair and desk yoga; one hour group creativity session in mindfulness plan creation.
HALF & HALF: Morning stress management sessions followed by afternoon individual or small-group mindfulness planning & coaching sessions. (Small groups consist of up to 6 participants).
*One-hour "workshop" segments also available in half and full-day packages –
e.g. Group training in mindful communication for 18 employees each given repeatedly to different groups of participants
Additional Employee Wellness Services Available:

Individually designed employee wellness plans unique to your company's desires and needs.
Uniquely designed manuals for each employee participating in the trainings.
One-on-one stress-management coaching for individual employees.
One hour "lunch 'n learns" for groups up to 10.