It started on Thanksgiving: The question of if we really need to spend time with family on the holidays.
I was feeling very fortunate to be spending time not only with my immediate family, but with extended family for the first time since we moved 3000 miles across the country from our family! (To follow that story check out my "Moving and Changing" blogs.
At the same time, one of my closest friends was driving with her husband and kiddo to spend time with friends in another state. The problem was that her kiddo was not too happy about it. He was so upset that he bemoaned having to spend time with people he doesn't really even know instead of family. The thing is, he does know these people. They are actually quite close family friends. But, at the heart of the matter was that he wanted to be with family.
The funny thing is, while both scenarios make complete sense to most people, to me they do not.
FLASH BACK 1992
Actually, I'm only sort-of sure it was '92… It was definitely during my college years… A group of my friends and I got together at my house for my first "Friendsgiving." I don't remember why I did not go home for Thanksgiving that year, but it was probably because I was upset with my family for some reason or another. I do remember that a number of my friends could not go home because their families were in Northern California (we were in San Diego) and they had to work.
There are two Thanksgivings I remember with both fondness and clarity. That first "Friendsgiving" and one several years later when my then boyfriend, now husband, and I had friends over for Thanksgiving during my graduate school years.
We all cooked together AND cleaned together! That never happened at family Thanksgivings – just sayin'! Then we played board games and laughed and laughed. Okay, well, during the college Friendsgiving we may have gone to a bar to shoot pool… But still, good times were had by all!
On the other hand, I have so many memories of family Thanksgivings and Christmases that are full of stressful memories. These are holidays where my mom (or step-mo) and I did all of the cooking AND cleaning. These are holidays for which people made last minute changes about whether or not they were going to show-up. And there were so many years in which I had to do what I not-so-affectionately termed, "The Southern California World Tour," when I would have to drive all over So Cal going to my divorced parents' two houses, grandparents' houses and, if I had a significant other, his family's houses.
Now, just so that my family doesn't freak-out when they read this, the holidays over the years were not all bad. Many of them, especially after my kids were born, were very nice. I am very blessed and grateful for the fact that my mom and my step-mom get along and have been able to spend many, happy holidays at each others' houses. They are both gracious women.
In the case that family holidays are not full of peace and joy, you would be well-advised to go beyond the boundaries of family and spend the holidays with others.
BE OPEN-MINDED
The moral of my story is that sometimes being with friends is more of, (or as much of) a blessing as being with family on the holidays.
And sometimes, when family is far away – or maybe doesn't even exist – friends can become your family! My friend, the mother in the earlier story with the unhappy kiddo, put it eloquently when she said, "… and the nice thing is you get to CHOOSE your friends!"
Be open-minded about who you spend your holidays with. And be open-minded about who you hold close to your heart. Friends can be as dear to you as family.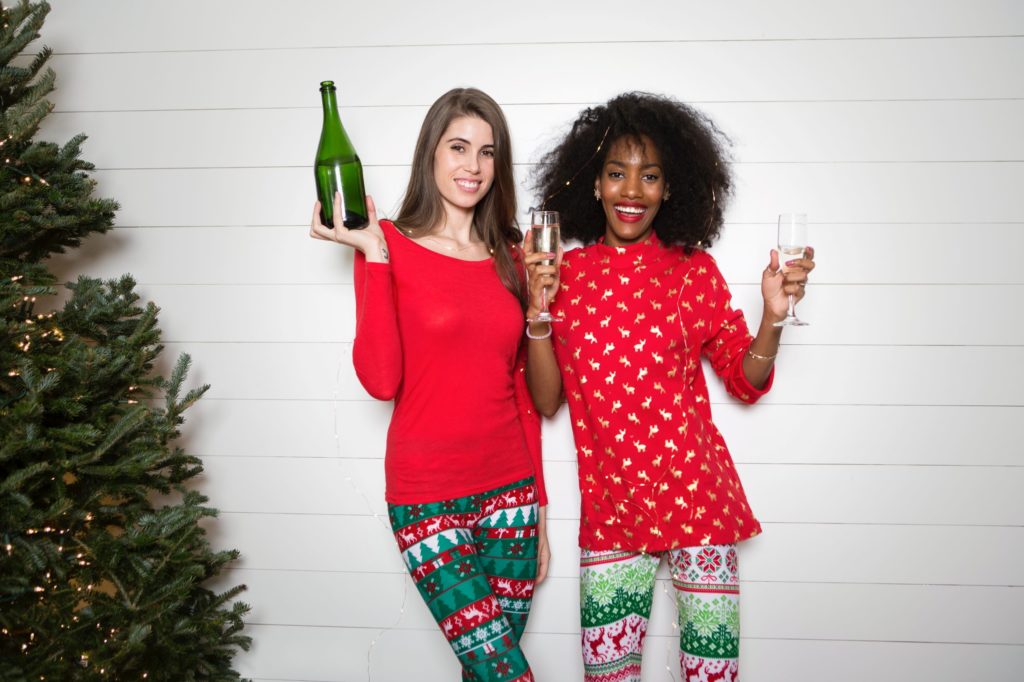 If at this point you are thinking to yourself, "I have such a hard time making friends," check out my blogs on how to build your friend tribes.
VOLUNTEER
Another truly wonderful and fulfilling way to spend your holidays is to spend them being in service to others.
Another friend of mine did just that this past Thanksgiving. She volunteered to help serve food at a Thanksgiving party for retired nurses and their families. She said it was one of the most personally fulfilling things she had ever done.
There are many, many opportunities to volunteer during the holidays. Nursing homes, foster care agencies and homeless shelters are always looking for people to come serve food to, and just spend time with, people who are alone and less fortunate than many of us.
You can find volunteer opportunities near you at volunteermatch.org
GO AHEAD AND BE ALONE?
We know from research and common wisdom that spending too much time alone can cause depression. We also know that one of the best stress reducers is to spend time in community. However, in the case that you have a life full of people most of the time, you may find that spending a holiday alone is just the ticket you need for rest and relaxation. Personally, I tend to do this on Mother's Day. I like nothing better than to spend the day at a spa by myself or with one cherished friend. It's my present for being a mom the other 365 days of the year!
Some people find the most peace in spending time with one loved-one or just thier immediate family. If your extended family is not available, or if they are just too stressful to be around, you may want to spend the holidays with just your nuclear family. In the past, we have found that traveling to a relaxing destination with just our immediate family during a holiday is a very nice way to spend a holiday.
IT'S OKAY TO THINK OUTSIDE THE BOX
Whether you decide to have a Friendsholiday OR to spend your time volunteering OR to spend the holiday relaxing alone(ish), give yourself permission to think outside the box! We do not all have family to spend the holidays with. And some people just plain do not want to spend the holidays with family. And that's okay.
Of course, if you have accessible family and love spending time with them, then by all means enjoy the traditional family togetherness of the holidays! As my friend Elizabeth replied when I asked how her Christmas was, "Truly a special day. I love my family!"