Thank you to the sponsor of this blog post: The Andell Inn, Kiawah Island!
This is the first installment of a series of "local" Peaceful Living Travel blogs!  I am writing these with my Carolina tribe in mind. But, don't stop yourself from indulging in reading these blogs OR visiting the places I'm covering just because you live further away than the Carolinas. Because these places are ALL WORTH THE TRIP!
Whenever I mention Kiawah Island to my friends here in Charleston, the common refrain is, "Oh it's beautiful there, but so expensive!"  Well, I am here to tell y'all it really is within reach both physically and financially.
Thanks to the Andell Inn you can visit Kiawah for a weekend or longer and not break your travel bank!  Our family visited for a weekend in early November (check out my Instagram posts for some fun pics from around the island @peacelifecoach ) which is a delightful time to be in South Carolina – It's not too hot and not too cold.  We were able to enjoy outdoor activities during the day AND the comfort of the Inn fireplace in the evening. 
And YES, Kiawah is definitely a very easy place to visit with kiddos of all ages.  We brought our 12-year-old daughter, but the Andell Inn and the island are wonderful for younger kids as well.
The Andell Inn is an absolute gem of a hotel.  Because it is a Residence Inn by Marriott it has all of the amenities of a big name hotel. But, at the same time it has the comforts of a small, luxurious inn.  Per usual, we were not disappointed by the Marriott standards. From the Paul Mitchel brand bath products, to the fluffy pillows Marriott is famous for, we were right at home.
Here is my Peaceful Living list of shout-outs for the Andell Inn:
Kitchenettes in each room make for easy snacking and meals. This is an absolute must when travelling with kids!
The included breakfast buffet. Because our children are a little older, and because we have been travelling with them since they were babies, we have experienced a lot of hotel breakfast rooms. The Andell Inn's offerings are varied and tasty – they even have a mimosa bar for the grown-ups!
The saltwater pool. Another plus for travelling with kids is a pool! The Andell's pool is gorgeous and a good size! It doesn't hurt that it overlooks a beautiful pond too!
The beautiful, comfortable veranda with couches and Carolina Bed swings, invites one to sit down or lay back and relax while sipping sweat tea and breathing in the slightly salty air.
If you're more of an indoors person, the luxurious sofas and chairs decorating the lobby and bar area allow for cuddling up and reading a book. It's like having your own super luxe living room with bar service! There's even a glowing fireplace for when it's cool out!
The hotel gym is a nice, little facility that was largely empty when we were there. It's clean and has a variety of free weights and equipment so that you can get in a good workout or do some yoga and get your stress-reduction in for the day.
Accessibility to shops, restaurants and a fantastic grocery store in the adjacent Kiawah Island Fresh Fields Village makes eating and shopping so easy! With just a short stroll across a quiet street you're right in the village and all of its amenities.
While I enjoy all of the amenities and comforts of the Andell Inn, my favorite thing about it (and its sister property the Hotel Bella Grace in downtown Charleston) is the artwork!  Because of the professional artwork hanging all over the Andell Inn I felt like I was in an upscale, boutique hotel in New York or San Francisco.  It's really amazing how the inn is able to combine sophistication and comfort into one lovely getaway.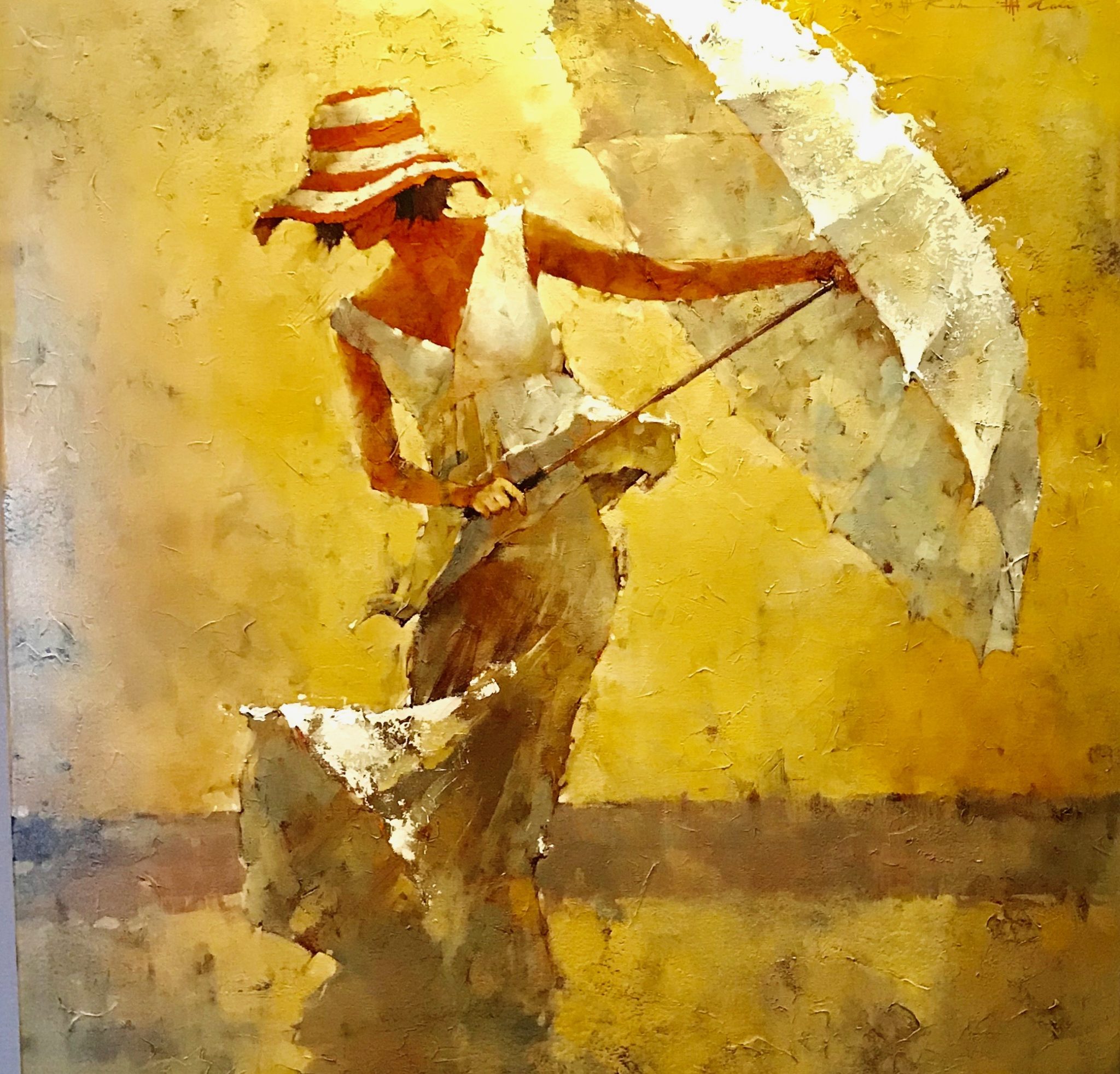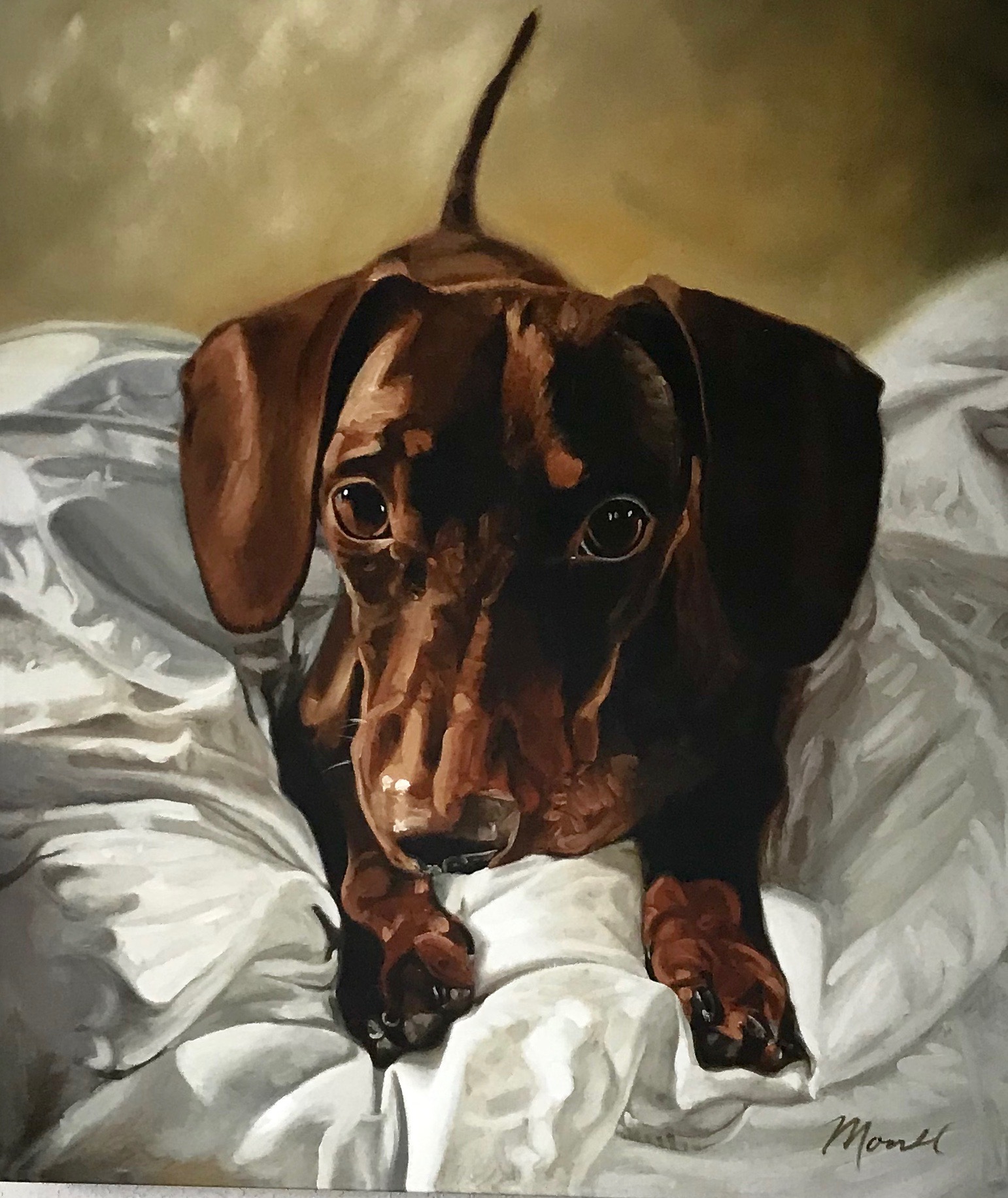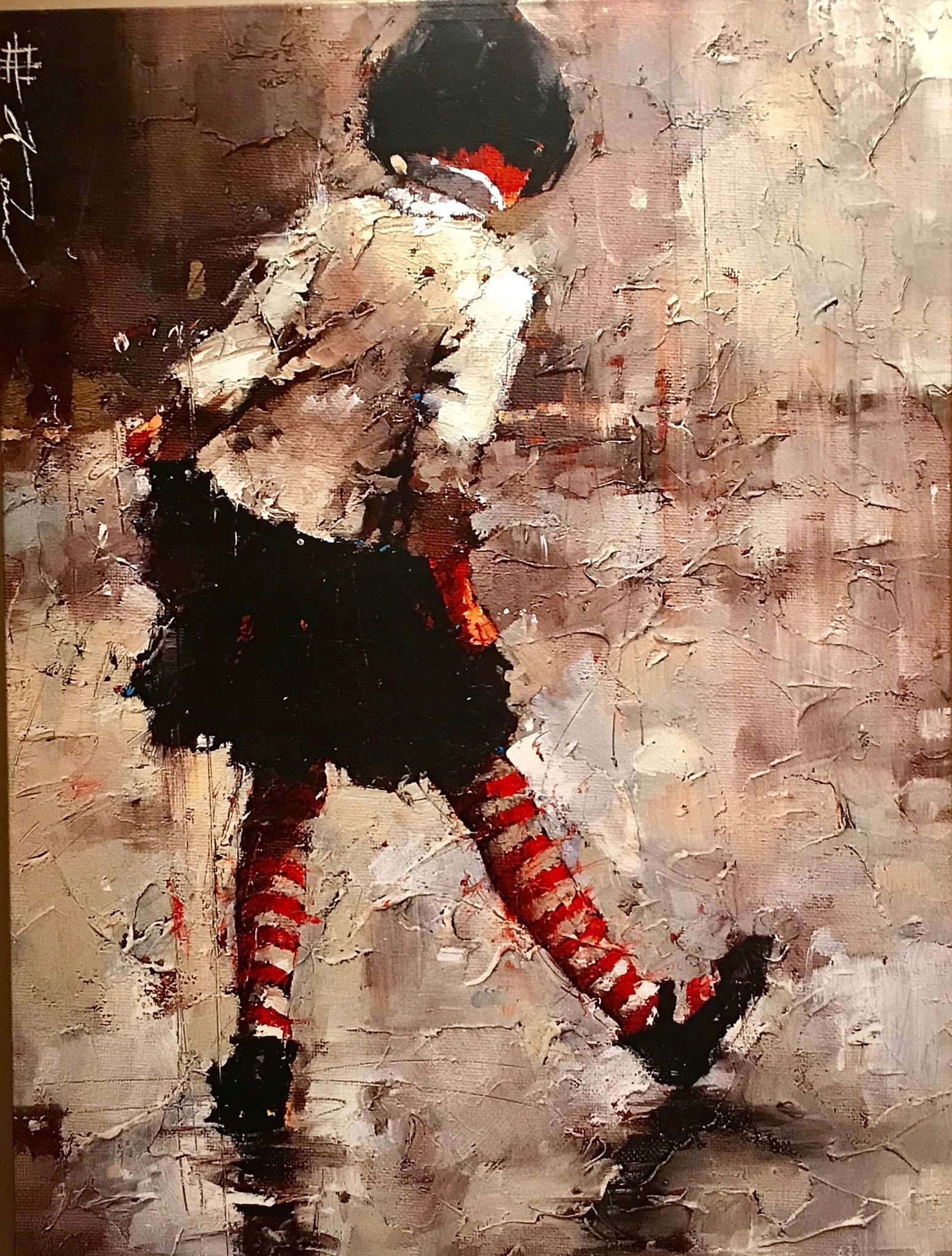 Room For Improvement:
Some of you may be saying, "Jen, that sounds great. But, your stay was comped, so of course you are saying great things about it."   In order to be a travel blogger, I need to be able to have sponsored posts and comped stays. But, do not fear my peaceful tribe, I do have a few areas of improvement I can suggest for the inn:
The beds are very comfortable, as are the breakfast bar chairs, but the in-room living room furniture, while stylish is not designed for lounging around in comfort.
This is not something I care about, but if you are someone who wants robes and slippers in your room, this is not something that the Andell provided. (Although, to be fair, I did not ask housekeeping if they had any).
And finally, I would like to suggest a couple of bathroom additions to add to guest comfort: magnifying mirrors and cotton balls. They are bulky and hard to travel with. Having them as an in-room amenity makes a huge difference!
But, truly folks, that's really it.  I have stayed at hotels/ motels ranging from 5 Star Hyatts and Omni's to Motel 6, and I will stay at Marriotts again and again because of the comforts and service they offer.  The Andell Inn, in particular, is such a unique hotel in the Marriott chain, with its luxurious comforts and beautiful art, that it will be my go-to for the Peaceful Living weekend getaways I often take!
PEACEFUL FUN KIAWAH STYLE!
Kiawah is a perfect retreat spot for outdoor enthusiasts.  Honestly y'all, there is not a lot to do here indoors (although, lounging around the Andell Inn with a good book is always an option!) You can find a wide range of outdoor activities in all different price-points in Kiawah Island.   This blog is dedicated to Kiawah Island not only being within reach geographically, but also financially, so am going to cover my favorite pricing category! LOW-COST
Let your feet take you on a Kiawah adventure! Whether you're strolling around Fresh Fields Village window shopping, or walking the nice, walk/ bike paths, you can amuse yourself for hours right around the Andell Inn!
Rent a bicycle for a day! For $14.00 (at the time of this writing) you can rent a nice little cruiser from Seacoast Sports and Outfitters and peddle on those same walk/ bike paths!
Go one direction and you will find yourself on the exclusive Seabrook Island! You may even find yourself greeted along the way by a horsey friend 🙂
Go the other direction and find yourself at Kiawah Island Beachwalker Park! But, please do not take the bicycles onto the beach! They are not equipped for the sand and water.
Rent a kayak or stand up paddleboard for the day. The waterways around Kiawah are calm and easy to paddle around. Kayak's are a fun and healthy family activity. We have been kayaking with our kids since they were pre-schoolers. Honestly, I am really glad that they can paddle their own boats now though. By about 7-years-old they get heavy to have on the front of a two-person boat! 🙂 
Go to the beach: The beach at Beachwalker Park  is one of my favorites in South Carolina! Not only is it absolutely gorgeous, but it's so large that even on a busy summer day there is plenty of room to spread out. I also appreciate the fact that because it's a Charleston County park there are plenty of amenities: parking, bathrooms, showers and a snack & beach equipment rental shop!
There is a small parking fee that helps the county maintain the beach and surrounding park. It ranges from $5.00 to $40.00 (for busses) depending upon the time of year and type of vehicle. You can expect to pay $5.00 during the off-season and $10.00 during the high season for a car.
An extra-bonus is that the park and beach are dog-friendly! Dogs are allowed on the beach all year round as long they are on-leash. Check here  for the current leash rules outside of the park boundaries.
FRESH FIELDS VILLAGE:  EAT, DRINK, SHOP!
When you are ready to brush the sand off and grab a bite to eat, Fresh Fields Village is your Peaceful Living go-to!  This blog is all about bringing Kiawah within reach and Fresh Fields meets the requirement of being both easy to reach physically AND easy to reach financially – at least when it comes to food.
EAT:
There are 12 eateries in Fresh Fields Village.  I won't be able to cover them all, but I'm going to give you an overview of my 4 favorites!
DRINK:
Most of the restaurants in Fresh Fields have bars in them.  For our purposes I am going to only talk about Forty-Eight: A Wine Bar. 
What I like:

They offer both 48 wines by-the-glass, and 48 craft beers, every day. And these often change. This allows for a nice variety.

They have a nice menu of small plates to accompany the wine and beer.

The service was efficient, if not friendly.

They have live music on the weekends. This was a nice addition to the ambience.

What I'm not thrilled about:

The wine-tasting is self-serve. You use a card in a machine and pay for each measured pour. This can add-up price-wise.

There is as definite lack of customer service. Call me old fashioned, and from California, but I like to interact with a trained sommelier when I am tasting wine. I like to learn about the wines from a person, not from a card placed so high up I had to crane my neck to see it.

The seating is rather hard and uncomfortable. It's not the type of place I would sit for an extended time eating and tasting wine.

Finally, on a more personal note, they would not honor the $100 Fresh Fields Village Gift Certificate won by some friends of mine at Dogtoberfest (a charity-event put on by Fresh Fields Village for the Charleston Animal Society) even though they were charging $30 for wine-tasting at the event and were supposedly one of the sponsors of the event. I just think that is a little shady on their part. But, maybe that's just me…
SHOP:
The shops tend to be more on the expensive side in my book.  But, if Lilly Pulitzer is up your alley, and not out of your budget, then you will definitely enjoy the shopping.  For the more budge-friendly of us, I highly recommend window shopping for the most part.  I have two exceptions to this for shops in the village though: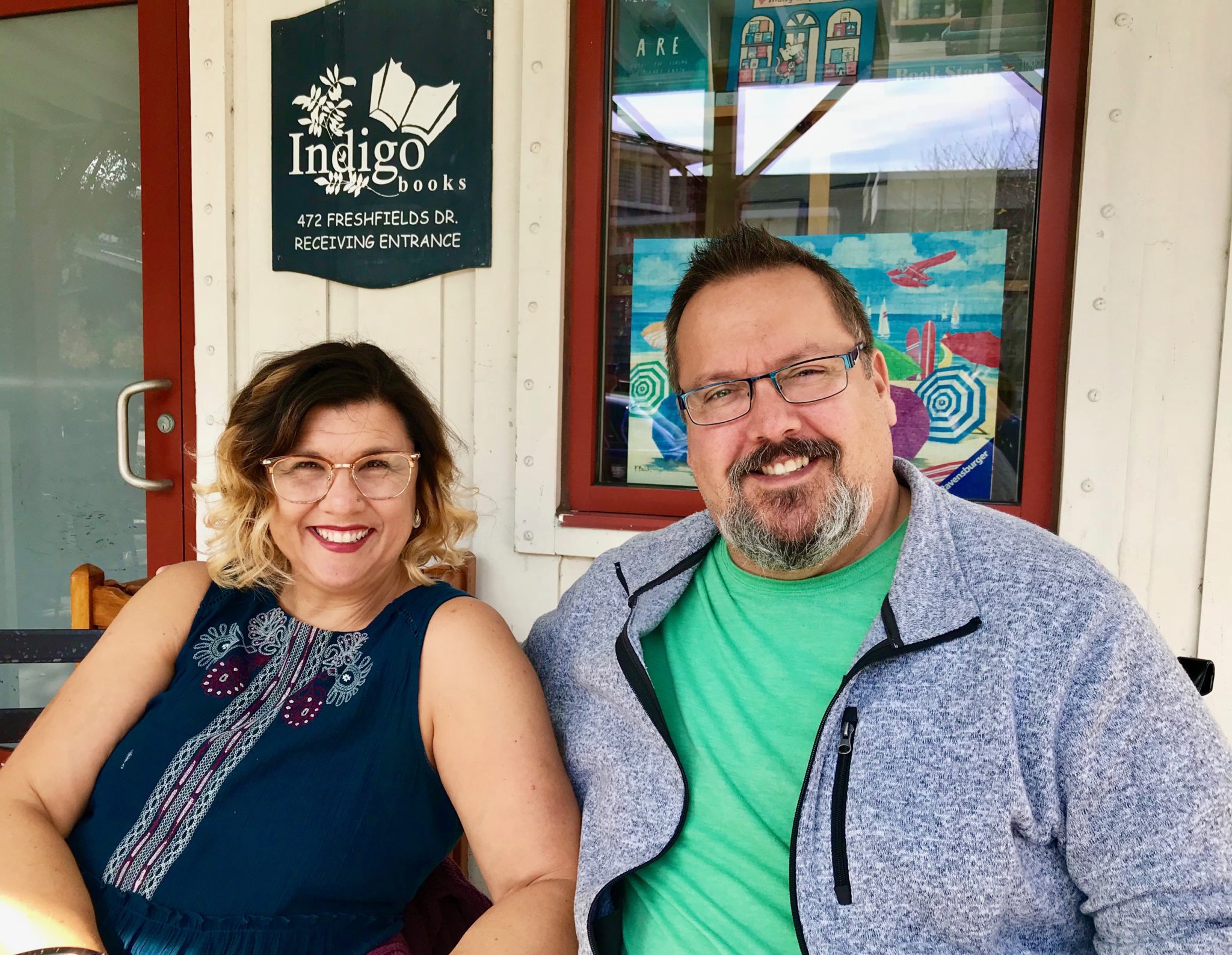 Indigo Books: If you love books I highly recommend visiting this sweet, little independent book store!
Wonder Works Toys: If you are from Charleston, you are already familiar with Wonder Works. If you are from farther afield, and have kiddos with you, Wonder Works is a very special toy store. Yes, it is more expensive than Wal Mart, but it's not over-the-top.
Overall, I highly recommend Kiawah Island as a family-friendly Peaceful Living destination.  If you are in the Carolinas it is an easy jaunt for a weekend away. If you are farther away, it is definitely worth the trip! I even have friends who flew all the way from Arizona to spend their family vacation on Kiawah!  Make sure to use the Andell Inn as your home-away-from-home on Kiawah! It's amazing AND affordable!
What are your favorite island travel destinations? 
Have you been to any of the Carolina Barrier Islands? 
As always, your comments shares and social follows are greatly appreciated!
Happy Peaceful Travels! 
Jen